Chance is veiled necessity
The beginning of our journey
While looking for spare parts for his 190, Philipp met Roland, who at that time had already been active in historic motorsport for a while.
A few years later Maik would like to wrap his lovingly converted 190E 3.2 in the Snobeck design and meets Roland who has similar plans and wants to revive his racer.
In countless hours of screwing together, the plan for the rpmdepot project, which we will present in 2020, is created.
As you can see, it doesn't matter whether it is an original vehicle, racing car or modified street car. You are in good hands with us!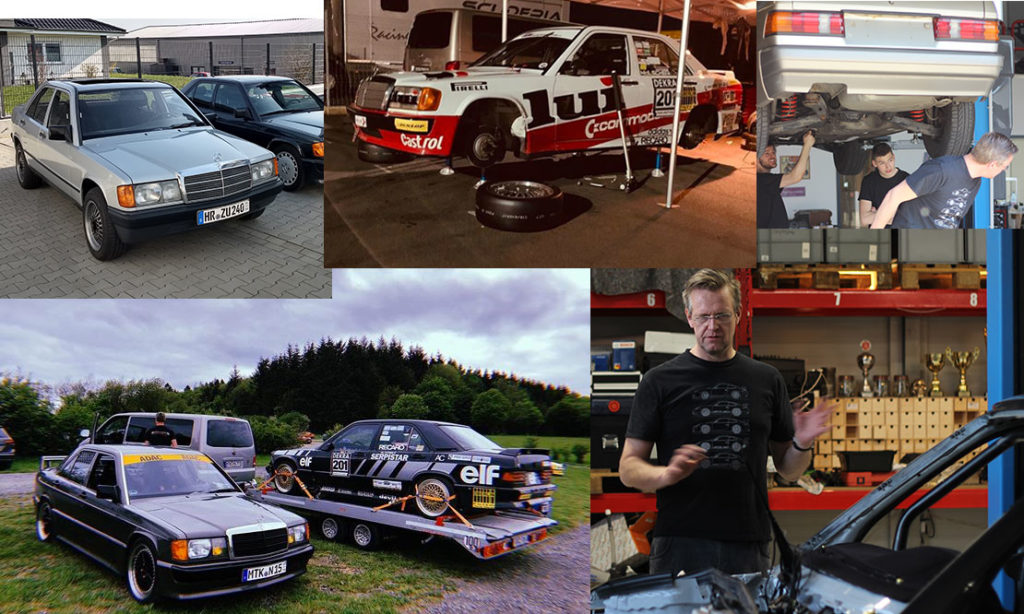 As Mercedes enthusiasts, we are confronted with various challenges. The maintenance of classic vehicles is currently given low priority by the manufacturer, so that there are increasing bottlenecks in the supply of spare parts and in terms of performance or motorsport parts our community has a much smaller bandwidth than fans of other brands anyway.
We want to change that!
In addition to parts from our own production, we would also like to give you access to high-quality products from our partners. Everything from a single source at rpm-depot.de. It is important for us to rely on products that we can use and recommend ourselves.
Our focus is on supplying classic Mercedes with spare and performance parts, but that doesn't mean that drivers of newer models don't get their money's worth. Our shop has something in store for you too.
Fortunately, we didn't have to start from scratch, because we are building on Roland's experience, who has been successfully selling the stainless steel exhaust systems of the Bastuck company for the W201 for a number of years and offers GRP parts for 190 racing cars and much more.
rpmdepot was born out of the love for our cars with the star. There is a great fan base around these cars that we owe a lot to. Now we want to give something back to the community.
We hope you will join us on our journey! We always have an open ear for questions, suggestions, feedback or cooperation. Use our contact form or our social media channels and get in touch with us.
We look forward to hearing from you!